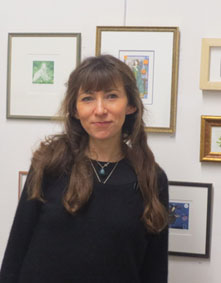 I was born in 1974 in Wimbledon, and I grew up in Kingston-Upon-Thames in South-West London. I graduated from Kingston University in 1997, with a BA Hons in Illustration. Since then I have worked freelance as an illustrator and printmaker. I often work in etching and aquatint (inked-up on the plate in one sitting and printed in one impression), but I also sometimes work in watercolour, which is my current medium. My personal work is mostly inspired by fairytales and stories, animals and mythological creatures,and places I have visited. I am currently working from a studio in South Wimbledon, run by ACAVA, having previously worked in a studio an old wharf by the Thames in Hammersmith. There is an Open Studios event every September at my current studio.
Client List
The Folio Society
Templar Publishing
Radio Times (BBC Worldwide)
The Independent on Sunday Magazine
Financial Times magazine
Oxford University Press
Published work
Books published by The Folio Society:
'Anton Chekhov: Short Stories' 2001
'The Enchanted April' by Elizabeth Von Arnhim 2002
'The Arabian Nights,vol.III' 2003
'Excellent Women' by Barbara Pym 2005
'Peter Pan and Wendy' by J.M.Barrie 2006
'The Pink Fairy Book' by Andrew Lang 2007
'Dream Days' by Kenneth Grahame 2010
'Good Behaviour' by Molly Keane 2011
'The Little White Horse', by Elizabeth Goudge, 2013
'The Nursery Rhyme Book' by Andrew Lang 2016
Work for Templar Publishing:
'StoryWorld' cards, published by Templar;
'Faery Magic', 2009, 7 illustrations
'Christmas Tales', 2010, 7 illustrations
Pictura 'Debra McFarlane's Once Upon a Time', published April 2014
Pictura 'Debra McFarlane's A Midsummer Night's Dream', published October 2014
'Polar Post' Christmas card design, 2015.
I have also contributed to;
'The Complete Tales of Hans Christian Andersen'- The Folio Society 2005
(1 illustration)
and two other binding designs for The Folio Society: The Ottoman Empire, 2003,
and
'At the Back of The North Wind' by George McDonald.
'The Oxford Treasury of Time Poems'-
Oxford University Press 1998 (8 illustrations)
Radio Times -
I have illustrated regularly for the Radio Times magazine since 2002, mostly Radio Choice illustrations. I painted the cover for the Easter Radio Times issue in April 2015.
Selected Exhibitions:
'Debra McFarlane and The Folio Society' - solo show at The Illustration Cupboard, 11th-28th April 2012
My work has featured in the Annual Winter Exhibition at The Illustration Cupboard, London, every year since 2007.
'Escape to Wonderland- A History of Children's Book Illustration;The Lightbox Gallery, Woking, August 2010- January 2011 (1 piece).
'Storyworld' exhibition,The Illustration Cupboard, 2010.
Fidra Gallery Illustration Exhibition, Edinburgh, summer 2009. (1 piece)
'A Houseful of Books- 60 Years of The Folio Society' exhibition, the British Library, London 2007.
Hans Christian Andersen bicentennial exhibition, British Library, 2005.
AOI Images 28 Exhibition, 2004, The Mall Galleries, London.
AOI Images 26 Exhibition, 2002, Royal College of Art.
Autumn Art Fair, Landmark Arts Centre, Teddington Lock, 1999, 2001 -2009 (miniature prints).
Battersea Contemporary Art Fair, 2004.